Librarians Going Wild!
Grab and Go Book List: Librarian-themed romances
In celebration of libraries, I listed our romances featuring book crazy babes and the hunky men who love them.
If you enjoy a light romp, try the newest release from Molly Harper, Nice Girls Don't Bite their Neighbors. This series focuses on a former children's librarian turned vamp, Jane Jameson and her adjustment to nocturnal living.

As she plans her wedding to Gabriel, she must deal with a her grannie's ghost and acting as guardian of a newbie vampire.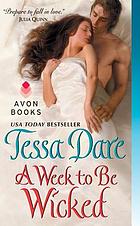 Tessa Dare's (who describes herself as a sometime librarian) latest historical romance is out. In
Week to be Wicked
,
Minerva Highwood walks and reads a
t the same time. She proposes a fake engagement to Lord Payne, a man who cannot even remember her name. Minerva hopes present her scientific findings, and Colin is in it for the huge cash prize. They may just find love along the way.
What the Librarian Did by Karina Bliss
she's an academic librarian, he's a former rock n' roller. Can
she handle his celebrity status and can he deal with her secret? This Harlequin stands out with the great plot, Australian setting, and realistic characters.
Looking for a light romp?
Tempted Again
by Cathie Linz is sure to please. On her way back hom
e to
Hopeful, Ohio, Marissa accidentally hijacks a parade. Add insult to injury, her ex, the s
heriff, pulls her over and then has the nerve to not remember her. Connor senses the new children's librarian is someone he will want to check out.